Dale Bruder discusses advertising methods with Cathy Sirk, who teaches Spanish to children. Dean Knuth / Staff
Cathy Sirk wants to share her knowledge of Spanish culture through language classes. Business coach Dale Bruder is helping her refine her education skills into business skills.
The Story

In 1993, Cathy Sirk studied Spanish education at the University of Northern Colorado. Then she lived abroad and studied in Argentina, where she learned about Spanish heritage and culture.

" Throughout my studies, I had always planned on teaching in a high school," she said. "However, this dream was altered slightly as my first teaching job in Oklahoma was as a traveling elementary Spanish teacher."

She fell in love with teaching younger students and when she moved with her husband to North Carolina, she was hired to teach a home-school co-op.

" This allowed me to stay home with my children while still doing what I love to do - teach," she said.

Sirk was excited to find out that Marana Unified had a Spanish curriculum for elementary schools.

" But the teachers had little or no experience with a second language," Sirk said.

She decided to volunteer in her daughter's class and the other second-grade classes.

" It was a thrill to be back in the classroom and be known as Señora Sirk," she said.

Foreign Fluency was originally created to enrich the students Sirk had taught as a volunteer. But then, she said, "I realized that the need for a foreign language program extended beyond those students and into the surrounding communities."

Kirk offers two levels of Spanish. Spanish I focuses on introductory lessons such as the days of the week, months of the year, the alphabet, numbers, colors, and simple conversation.

Spanish II contains slightly more advanced lessons. These include sessions centered on household items, food and more advanced conversation.

Sirk prices her classes at $50 for eight one-hour classes and limits the class size to 15.

Advertisements for these classes - in the form of 2,000 fliers - were sent to three Marana Unified School District elementary schools.

She also had her classes listed in the Arizona Daily Star's Summer Activities section and Continental Ranch ran an ad in its monthly newsletter.

" So far, I have been quite discontented in the response to my advertisements," she said. "My hope was to increase the interest in learning a new language by advertising through the school district."

Currently, Sirk has little overhead. She pays $5 an hour to rent the community center and her yearly insurance premium is $750, she said.

Sirk has paid about $300 in advertising costs but fears she might not be reaching the right people.

" Although I am starting small, I am thinking big," she said. "My ultimate goal in this venture would be to have Foreign Fluency teaching a multitude of languages in all the elementary schools around Tucson."

Business coach Dale Bruder offers advice to help lay the foundation of a good business.

The Advice

" Señora Sirk's passion for languages ignites her students and ought to do the same for teachers and administrators," said Business Coach Dale Bruder. "She frames the intellectual discipline of foreign language in the context of fun - what's often called edutainment."

This service-based enterprise relies on Sirk's abilities to attract those who make decisions for her students, namely parents and teachers, Coach Bruder said. To reach her target market of primary-school children she must also appeal to administrators.

" A professional practice business model can be successful for Foreign Fluency," Coach Bruder said. "She can build a foundation providing education services to institutions and specialty classes to those who want a deeper experience."

Pima Community College's Community Campus catalog is one place where Foreign Fluency should promote its offerings, Coach Bruder suggests.

" By being established as adjunct faculty and having educational offerings in the catalog, Foreign Fluency will gain credibility," he said.

The public response from the wide distribution of the catalog will serve as a barometer of student interest, acting as a simple marketing study.

" This market study method provides Foreign Fluency with accurate information needed to target the ideal client - parents who are committed to providing their children intellectual activity in a stimulating environment," Coach Bruder said.

The professional practice business model is a triad of administration, marketing and delivery, Coach Bruder said.

Administration covers managing the business, producing educational materials and processing income and expenses.

" Marketing covers continuously updating the conversation parents, administrators, teachers and the student participants are having about Foreign Fluency," he said. "Managing this conversation involves keeping the students engaged in the use of the new knowledge such as being the interpreter in trips to Rocky Point."

Delivery involves the language tutor's performance and professionalism. "This is what will be remembered, what contributes to the marketing conversation and creates the impetus to have an efficient administration," Coach Bruder said.

Foreign Fluency can grow into a respected provider of language services, he said. "Using a professional practice business model where a client base is developed and secured demonstrates its economic viability."
Following Up
It's early on a Tuesday morning and Cathy Sirk is a bit breathless but looking energized, and with reason.

Since last June, her business has grown rapidly.

The class roster for her foreign language instruction business, Foreign Fluency, climbed from about 25 to 110 students, and in January Sirk had to hire two teachers to help balance her workload. This week she'll introduce a new French course with the help of yet another instructor.

"The biggest thing that came out (of the makeover) was that I got into the home-school market," she said.

Appealing to the parents and decision-makers in that market had eluded Sirk, despite her best efforts to advertise to them. Among her current list of 110 students, she can count a group of 24 home-schooled children.

Her success thus far has not only boosted the number of referrals she receives, but has also earned her more credibility with parents and teachers.

"People would call me and say, 'I want you to come to my daughter's school,' " Sirk said.

These requests were music to her ears.

One of her earlier goals had been to gain entry to elementary schools. At the time, however, Sirk lacked the contacts that could give her easier access to administrators and others in charge.

Encouraged by the parents' requests, Sirk placed some calls to the Marana school district. Her efforts paid off and she managed to get donated class space from teachers at three Marana elementary schools including Ironwood and Quail Run. Classes are held after school so she doesn't intrude on teachers' schedules.

She was quickly establishing herself in the Northwest area, and Foreign Fluency was expanding at a steady pace.

Then parents from other districts such as Vail and Amphi began calling.

But where things had progressed relatively smoothly with the Marana district, Sirk has often not been able to move beyond the principal's desk in the new districts.

She attributes her difficulty breaking into these markets to the same problem she had earlier when she didn't have an inside contact at the schools. But she hasn't given up.

"I model my program after Mad Science," Sirk said, referring to the national franchise that hosts science workshops and after-school programs in many of the same schools she's trying to work with.

"I'm not sure why I'm any different in their eyes," she added.

Though she adopted many of the recommendations for marketing and general business principles suggested by Business Coach Dale Bruder, Sirk decided not to approach larger institutions such as Pima Community College. "If I went to Pima, then I'd be working for Pima. And it would be teaching adults," Sirk reasoned.

She summarized her past year with a huge sigh and a smile.

Sure there are a few kinks here and there, and additional teachers to hire down the road, but for now, "It seems like everything is falling into place," she said.
DYNAMIC STRATEGIST Communication Links Voice/Text 520.331.1956 strategy@dalebruder.com
Class of 1996
PROFILES IN COACHING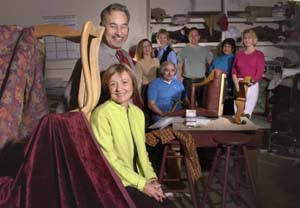 A Court Language Translator Service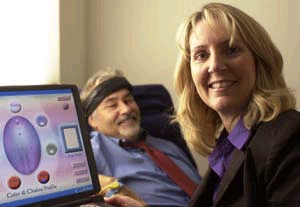 A Custom & Production Cabinet Maker
ENTERPRISES BENEFIT BY DALE BRUDER'S COACHING ATTENTION
Abracadabra Restoration
Academy of Leadership and The Arts
Andrew Avella
Arizona Audiotronics
Arizona House of Graphics
Arizona Open Land Trust
Asian Institute of Medical Studies
Asian Trade Rug Company
Arrow Land Survey
Atkinson's Cabinet Shop
Bio-Touch IFBM
Daniel H. O'Connell PC
Deed and NoteTraders
ELF Products
Empowering Local Communities
Focus Productions
Funzalo Records
Gadsden Company
Alex Holland
Jeff Hampton
Hi Tech Computers
Hosanna Electric
La Estancia LLC
MB Development
Maribelle Cakery
Mike's Artist Management
Pelstar Computers
Prime Home Services
Solar Transportation Technology
Sonoran Translators
Those Feng Shui Guys
Time & Time Again Antiques
Tres English
Tucson Embroidery & Design
Tucson Networking Association
Tucson Social Society
Unique Upholstery & Design Center